Set the World on Fire: A New Book on Black Nationalist Women's Activism
This post is part of our blog series that announces the publication of selected new books in African American History and African Diaspora Studies. Set the World on Fire: Black Nationalist Women and the Global Struggle for Freedom was recently published by the University of Pennsylvania Press. 
***
The author of Set the World on Fire is Keisha N. Blain, president of the African American Intellectual History Society (AAIHS) and senior editor of its popular blog, Black Perspectives. She is a historian of the 20th century United States with broad interdisciplinary interests and specializations in African American History, the modern African Diaspora, and Women's and Gender Studies. Her research interests include black internationalism, radical politics, and global feminisms. She is currently an Assistant Professor of History at the University of Pittsburgh. She completed a B.A. (Magna Cum Laude; Phi Beta Kappa) in History and Africana Studies from Binghamton University (SUNY) and a Ph.D. in History from Princeton University. Along with Chad Williams and Kidada Williams, Blain is the co-editor of Charleston Syllabus: Readings on Race, Racism, and Racial Violence (University of Georgia Press, 2016). Her new book, Set the World on Fire: Black Nationalist Women and the Global Struggle for Freedom (University of Pennsylvania Press, 2018), examines how black nationalist women engaged in national and global politics from the early twentieth century to the 1960s. Follow her on Twitter @KeishaBlain.
---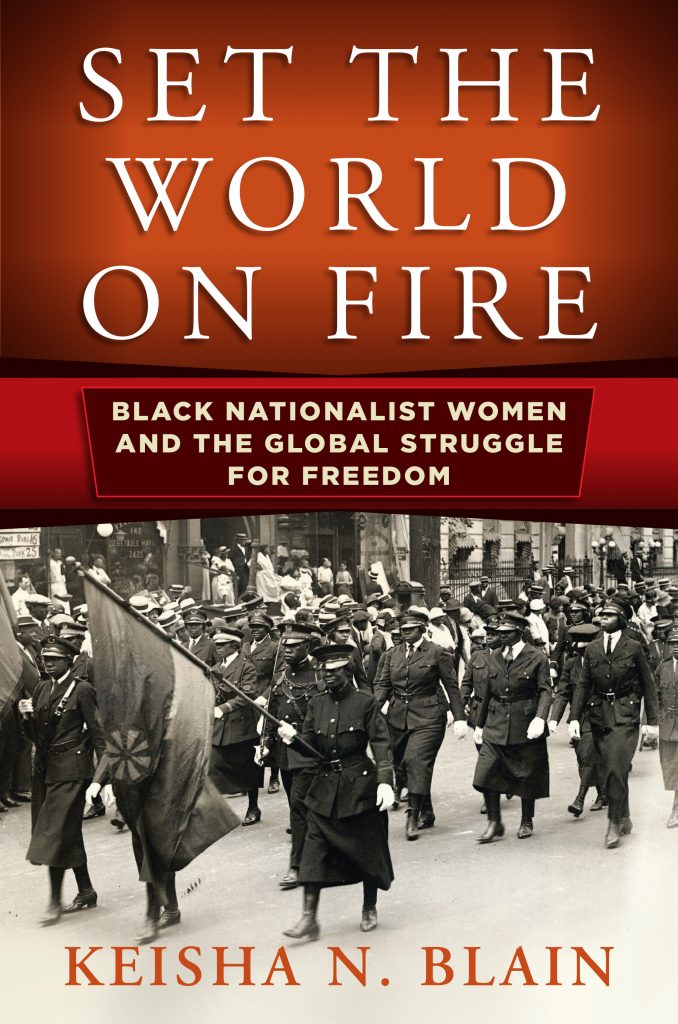 In 1932, Mittie Maude Lena Gordon spoke to a crowd of black Chicagoans at the old Jack Johnson boxing ring, rallying their support for emigration to West Africa. In 1937, Celia Jane Allen traveled to Jim Crow Mississippi to organize rural black workers around black nationalist causes. In the late 1940s, from her home in Kingston, Jamaica, Amy Jacques Garvey launched an extensive letter-writing campaign to defend the Greater Liberia Bill, which would relocate 13 million black Americans to West Africa.
Gordon, Allen, and Jacques Garvey—as well as Maymie De Mena, Ethel Collins, Amy Ashwood, and Ethel Waddell—are part of an overlooked and understudied group of black women who take center stage in Set the World on Fire, the first book to examine how black nationalist women engaged in national and global politics from the early twentieth century to the 1960s. Historians of the era generally portray the period between the Garvey movement of the 1920s and the Black Power movement of the 1960s as an era of declining black nationalist activism, but Keisha N. Blain reframes the Great Depression, World War II, and the early Cold War as significant eras of black nationalist—and particularly, black nationalist women's—ferment.
In Chicago, Harlem, and the Mississippi Delta, from Britain to Jamaica, these women built alliances with people of color around the globe, agitating for the rights and liberation of black people in the United States and across the African diaspora. As pragmatic activists, they employed multiple protest strategies and tactics, combined numerous religious and political ideologies, and forged unlikely alliances in their struggles for freedom. Drawing on a variety of previously untapped sources, including newspapers, government records, songs, and poetry, Set the World on Fire highlights the flexibility, adaptability, and experimentation of black women leaders who demanded equal recognition and participation in global civil society.
"Set the World on Fire illuminates a dark though important area of history. Deftly written, it is also a signal contribution to African American studies and women's studies. It shines brightening light on a previously—and scandalously—neglected topic." -Gerald Horne, author of Facing the Rising Sun: African Americans, Japan, and the Rise of Afro-Asian Solidarity
Melissa Shaw: Did you face any challenges conceiving of, researching, writing, revising, publishing, or promoting this book? If so, please share those challenges and how you overcame them? 
Keisha N. Blain: I faced many challenges writing this book. One of the most difficult ones to overcome was the issue of primary sources. I knew that I wanted to tell the story of how black nationalist women engaged in national and global politics in the three decades after Marcus Garvey was deported from the United States, but I wasn't quite sure how that would be possible. At the very beginning of the research process, I sent out several inquiries to archivists and librarians asking if they were aware of any collections I might be able to explore. Their responses revealed to me that I had a major task ahead. With few exceptions (such as the Amy Jacques Garvey papers at Fisk), it was rare to find collections of black nationalist women during the period in which I was studying. That meant that I needed to build an archive and then analyze the materials in order to tell the story all at once.
The process of building that archive was physically and even emotionally taxing. In so many instances, I was only able to figure out specific details of these women's lives or details about a specific incident until I had completed a dozen or so research trips. As I collected materials and organized them chronologically and thematically, I was eventually able to piece together the story and even then, I would find gaps of information, which would force me to embark on even more research trips.
In one case, I spent 3 months combing through census records in order to find information about Celia Jane Allen—one of the women I discuss in the book. She worked very hard to stay under the radar (so much so that I later found correspondence with FBI officials who admitted having a hard time locating her) and I could not find much about her early life. After obsessing about this for months, I eventually sat down and decided to simply write about what I did know with the materials I had in my possession—a few of her letters and poems and some second-hand accounts. In the process of writing, I began to discover new clues and with time, I was able to construct a rich narrative about her life while being honest with readers about what I knew and simply did not know. Despite the challenges that I faced, I was encouraged by so many amazing scholars and activists who cheered me on to the finish line and reminded me of the significance of the book at those moments when I grew discouraged. I am glad I didn't "throw in the towel."
permission
.