#SummerReading: Recommended New Books on the Black Experience
With summer quickly approaching, I have compiled a list of recommended new non-fiction books. All of these books, which were published as early as February or will be published this summer, offer valuable insights on the Black experience in the United States and across the globe. Collectively, these books deepen our understanding of race and racism, and provide the necessary tools for antiracism work. The list is organized alphabetically.
***
Tera Eva Agyepong, The Criminalization of Black Children: Race, Gender, and Delinquency in Chicago's Juvenile Justice System, 1899–1945 (University of North Carolina Press, April 2018).
In the late nineteenth century, progressive reformers recoiled at the prospect of the justice system punishing children as adults. Advocating that children's inherent innocence warranted fundamentally different treatment, reformers founded the nation's first juvenile court in Chicago in 1899. Yet amid an influx of new African American arrivals to the city during the Great Migration, notions of inherent childhood innocence and juvenile justice were circumscribed by race. In documenting how blackness became a marker of criminality that overrode the potential protections the status of "child" could have bestowed, Tera Eva Agyepong shows the entanglements between race and the state's transition to a more punitive form of juvenile justice. In this important study, Agyepong expands the narrative of racialized criminalization in America, revealing that these patterns became embedded in a justice system originally intended to protect children. In doing so, she also complicates our understanding of the nature of migration and what it meant to be black and living in Chicago in the early twentieth century.
---
Mary Frances Berry, History Teachers Us to Resist: How Progressive Movements Have Succeeded in Challenging Times (Beacon Press, March 2018).
Despair and mourning after the election of an antagonistic or polarizing president, such as Donald Trump, is part of the push-pull of American politics. But in this incisive book, historian Mary Frances Berry shows that resistance to presidential administrations has led to positive change and the defeat of outrageous proposals, even in challenging times. Noting that all presidents, including ones considered progressive, sometimes require massive organization to affect policy decisions, Berry cites Indigenous peoples' protests against the Dakota pipeline during Barack Obama's administration as a modern example of successful resistance built on earlier actions. Beginning with Franklin D. Roosevelt, Berry discusses that president's refusal to prevent race discrimination in the defense industry during World War II and the subsequent March on Washington movement. She analyzes Lyndon Johnson, the war in Vietnam, and the antiwar movement and then examines Ronald Reagan's two terms, which offer stories of opposition to reactionary policies, such as ignoring the AIDS crisis and retreating on racial progress, to show how resistance can succeed. The prochoice protests during the George H. W. Bush administration and the opposition to Bill Clinton's "Don't Ask, Don't Tell" policy, as well as his budget cuts and welfare reform, are also discussed, as are protests against the war in Iraq and the Patriot Act during George W. Bush's presidency. Throughout these varied examples, Berry underscores that even when resistance doesn't achieve all the goals of a particular movement, it often plants a seed that comes to fruition later.
---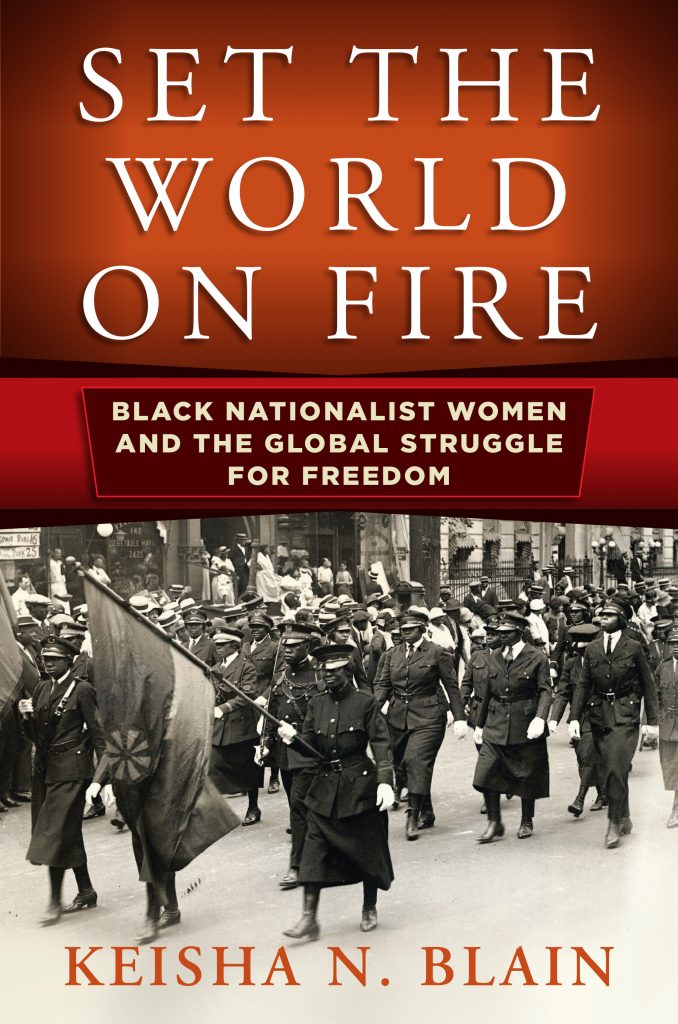 Keisha N. Blain, Set the World on Fire: Black Nationalist Women and the Global Struggle for Freedom (Penn Press, February 2018).
In 1932, Mittie Maude Lena Gordon spoke to a crowd of black Chicagoans at the old Jack Johnson boxing ring, rallying their support for emigration to West Africa. In 1937, Celia Jane Allen traveled to Jim Crow Mississippi to organize rural black workers around black nationalist causes. In the late 1940s, from her home in Kingston, Jamaica, Amy Jacques Garvey launched an extensive letter-writing campaign to defend the Greater Liberia Bill, which would relocate 13 million black Americans to West Africa. Gordon, Allen, and Jacques Garvey—as well as Maymie De Mena, Ethel Collins, Amy Ashwood, and Ethel Waddell—are part of an overlooked and understudied group of black women who take center stage in Set the World on Fire, the first book to examine how black nationalist women engaged in national and global politics from the early twentieth century to the 1960s. Historians of the era generally portray the period between the Garvey movement of the 1920s and the Black Power movement of the 1960s as an era of declining black nationalist activism, but Keisha N. Blain reframes the Great Depression, World War II, and the early Cold War as significant eras of black nationalist—and particularly, black nationalist women's—ferment. In Chicago, Harlem, and the Mississippi Delta, from Britain to Jamaica, these women built alliances with people of color around the globe, agitating for the rights and liberation of black people in the United States and across the African diaspora. As pragmatic activists, they employed multiple protest strategies and tactics, combined numerous religious and political ideologies, and forged unlikely alliances in their struggles for freedom. Drawing on a variety of previously untapped sources, including newspapers, government records, songs, and poetry, Set the World on Fire highlights the flexibility, adaptability, and experimentation of black women leaders who demanded equal recognition and participation in global civil society.
---
Howard Bryant, The Heritage: Black Athletes, a Divided America, and the Politics of Patriotism (Beacon Press, May 2018).
It used to be that politics and sports were as separate from one another as church and state. The ballfield was an escape from the world's worst problems, top athletes were treated like heroes, and cheering for the home team was as easy and innocent as hot dogs and beer. "No news on the sports page" was a governing principle in newsrooms. That was then. Today, sports arenas have been transformed into staging grounds for American patriotism and the hero worship of law enforcement. Teams wear camouflage jerseys to honor those who serve; police officers throw out first pitches; soldiers surprise their families with homecomings at halftime. Sports and politics are decidedly entwined. But as journalist Howard Bryant reveals, this has always been more complicated for black athletes, who from the start, were committing a political act simply by being on the field. In fact, among all black employees in twentieth-century America, perhaps no other group had more outsized influence and power than ballplayers. The immense social responsibilities that came with the role is part of the black athletic heritage. It is a heritage built by the influence of the superstardom and radical politics of Paul Robeson, Jackie Robinson, Muhammad Ali, Tommie Smith, and John Carlos through the 1960s; undermined by apolitical, corporate-friendly "transcenders of race," O. J. Simpson, Michael Jordan, and Tiger Woods in the following decades; and reclaimed today by the likes of LeBron James, Colin Kaepernick, and Carmelo Anthony. The Heritage is the story of the rise, fall, and fervent return of the athlete-activist. Through deep research and interviews with some of sports' best-known stars—including Kaepernick, David Ortiz, Charles Barkley, and Chris Webber—as well as members of law enforcement and the military, Bryant details the collision of post-9/11 sports in America and the politically engaged post-Ferguson black athlete.
---
Brittney Cooper, Eloquent Rage: A Black Feminist Discovers Her Superpower (St. Martin's Press, February 2018).
So what if it's true that Black women are mad as hell? They have the right to be. In the Black feminist tradition of Audre Lorde, Brittney Cooper reminds us that anger is a powerful source of energy that can give us the strength to keep on fighting. Far too often, Black women's anger has been caricatured into an ugly and destructive force that threatens the civility and social fabric of American democracy. But Cooper shows us that there is more to the story than that. Black women's eloquent rage is what makes Serena Williams such a powerful tennis player. It's what makes Beyoncé's girl power anthems resonate so hard. It's what makes Michelle Obama an icon. Eloquent rage keeps us all honest and accountable. It reminds women that they don't have to settle for less. When Cooper learned of her grandmother's eloquent rage about love, sex, and marriage in an epic and hilarious front-porch confrontation, her life was changed. And it took another intervention, this time staged by one of her homegirls, to turn Brittney into the fierce feminist she is today. In Brittney Cooper's world, , neither mean girls nor f***boys ever win. But homegirls emerge as heroes. This book argues that ultimately feminism, friendship, and faith in one's own superpowers are all we really need to turn things right side up again.
---
Anna-Lisa Cox, The Bone and Sinew of the Land: America's Forgotten Black Pioneers and the Struggle for Equality (PublicAffairs Books, June 2018).
The American frontier is one of our most cherished and enduring national images. We think of the early pioneers who settled the wilderness as courageous, independent–and white. This version of history is simply wrong. Starting in our nation's earliest years, thousands of free African Americans were building hundreds of settlements in the Northwest Territory, a territory that banned slavery and gave equal voting rights to all men. This groundbreaking work of research reveals the lost history of the nation's first Great Migration. Though forgotten today, these pioneers were a matter of national importance at the time; their mere existence leading to fierce political movements and battles that tore families and communities apart long before the Civil War erupted. The Bone and Sinew of the Land is a story with its roots in the ideals of the American Revolution, a story of courageous pioneers transformed by the belief that all men are created equal, seeking a brighter future on the American frontier.
---
Roxane Gay, ed., Not That Bad: Dispatches from Rape Culture (HarperCollins Publishers, May 2018).
In this valuable and revealing anthology, cultural critic and bestselling author Roxane Gay collects original and previously published pieces that address what it means to live in a world where women have to measure the harassment, violence, and aggression they face, and where they are "routinely second-guessed, blown off, discredited, denigrated, besmirched, belittled, patronized, mocked, shamed, gaslit, insulted, bullied" for speaking out. Contributions include essays from established and up-and-coming writers, performers, and critics, including actors Ally Sheedy and Gabrielle Union and writers Amy Jo Burns, Lyz Lenz, Claire Schwartz, and Bob Shacochis. Covering a wide range of topics and experiences, from an exploration of the rape epidemic embedded in the refugee crisis to first-person accounts of child molestation, this collection is often deeply personal and is always unflinchingly honest. Like Rebecca Solnit's Men Explain Things to Me, Not That Bad will resonate with every reader, saying "something in totality that we cannot say alone." Searing and heartbreakingly candid, this provocative collection both reflects the world we live in and offers a call to arms insisting that "not that bad" must no longer be good enough.
---
Jean Hatzfeld, Blood Papa: Rwanda's New Generation (Farrar, Straus and Giroux, August 2018).
In Rwanda from April to June 1994, 800,000 Tutsis were slaughtered by their Hutu neighbors in the largest and swiftest genocide since World War II. In his previous books, Jean Hatzfeld has documented the lives of the killers and victims, but after twenty years he has found that the enormity of understanding doesn't stop with one generation. In Blood Papa, Hatzfeld returns to the hills and marshes of Nyamata to ask what has become of the children—those who never saw the machetes yet have grown up in the shadow of tragedy. Fabrice, Sandra, Jean-Pierre, and others share the genocide as a common inheritance. Some have known only their parents' silence and lies, enduring the harassment of classmates or the stigma of a father jailed for unspeakable crimes. Others have enjoyed a loving home and the sympathies offered to survivor children, but do so without parents or an extended family. The young Rwandans in Blood Papa see each other in the neighborhood—they dance and gossip, frequent the same cafés, and, like teenagers everywhere, love sports, music, and fashion; they surf the Web and dream of marriage. Yet Hutu and Tutsi children rarely speak of the ghosts that haunt their lives. Here their moving first-person accounts combined with Hatzfeld's arresting chronicles of everyday life form a testament to survival in a country devastated by the terrible crimes and trauma of the past
---
Zora Neale Hurston, Barracoon: The Story of the Last "Black Cargo" (HarperCollins Publishers, May 2018).
In 1927, Zora Neale Hurston went to Plateau, Alabama, just outside Mobile, to interview eighty-six-year-old Cudjo Lewis. Of the millions of men, women, and children transported from Africa to America as slaves, Cudjo was then the only person alive to tell the story of this integral part of the nation's history. Hurston was there to record Cudjo's firsthand account of the raid that led to his capture and bondage fifty years after the Atlantic slave trade was outlawed in the United States. In 1931, Hurston returned to Plateau, the African-centric community three miles from Mobile founded by Cudjo and other former slaves from his ship. Spending more than three months there, she talked in depth with Cudjo about the details of his life. During those weeks, the young writer and the elderly formerly enslaved man ate peaches and watermelon that grew in the backyard and talked about Cudjo's past—memories from his childhood in Africa, the horrors of being captured and held in a barracoon for selection by American slavers, the harrowing experience of the Middle Passage packed with more than 100 other souls aboard the Clotilda, and the years he spent in slavery until the end of the Civil War. Based on those interviews, featuring Cudjo's unique vernacular, and written from Hurston's perspective with the compassion and singular style that have made her one of the preeminent American authors of the twentieth-century, Barracoon masterfully illustrates the tragedy of slavery and of one life forever defined by it. Offering insight into the pernicious legacy that continues to haunt us all, black and white, this poignant and powerful work is an invaluable contribution to our shared history and culture.
---
Martha S. Jones, Birthright Citizens: A History of Race and Rights in Antebellum America (Cambridge University Press, June 2018).
Before the Civil War, colonization schemes and black laws threatened to deport former slaves born in the United States. Birthright Citizens recovers the story of how African American activists remade national belonging through battles in legislatures, conventions, and courthouses. They faced formidable opposition, most notoriously from the US Supreme Court decision in Dred Scott. Still, Martha S. Jones explains, no single case defined their status. Former slaves studied law, secured allies, and conducted themselves like citizens, establishing their status through local, everyday claims. All along they argued that birth guaranteed their rights. With fresh archival sources and an ambitious reframing of constitutional law-making before the Civil War, Jones shows how the Fourteenth Amendment constitutionalized the birthright principle, and black Americans' aspirations were realized. Birthright Citizens tells how African American activists radically transformed the terms of citizenship for all Americans.
---
Keisha Lindsay, In a Classroom of Their Own: The Intersection of Race and Feminist Politics in All-Black Male Schools (University of Illinois Press, July 2018).
Many advocates of all-black male schools (ABMS) argue that these institutions counter black boys' racist emasculation in white, "overly" female classrooms. This argument challenges racism and perpetuates antifeminism. Keisha Lindsay explains the complex politics of ABMS by situating these schools within broader efforts at neoliberal education reform and within specific conversations about both "endangered" black males and a "boy crisis" in education. Lindsay also demonstrates that intersectionality, long considered feminist, is in fact a politically fluid framework. As such, it represents a potent tool for advancing many political agendas, including those of ABMS supporters who champion antiracist education for black boys while obscuring black girls' own race and gender-based oppression in school. Finally, Lindsay theorizes a particular means by which black men and other groups can form antiracist and feminist coalitions even when they make claims about their experiences that threaten bridge building. The way forward, Lindsay shows, allows disadvantaged groups to navigate the racial and gendered politics that divide them in pursuit of productive—and progressive—solutions. Far-thinking and boldly argued, In a Classroom of Their Own explores the dilemmas faced by professionals and parents in search of equitable schooling for all students—black boys and otherwise.
---
Darnell L. Moore, No Ashes in the Fire: Coming of Age Black and Free in America (Nation Books, May 2018).
When Darnell Moore was fourteen, three boys from his neighborhood tried to set him on fire. They cornered him while he was walking home from school, harassed him because they thought he was gay, and poured a jug of gasoline on him. He escaped, but just barely. It wasn't the last time he would face death. Three decades later, Moore is an award-winning writer, a leading Black Lives Matter activist, and an advocate for justice and liberation. In No Ashes in the Fire, he shares the journey taken by that scared, bullied teenager who not only survived, but found his calling. Moore's transcendence over the myriad forces of repression that faced him is a testament to the grace and care of the people who loved him, and to his hometown, Camden, NJ, scarred and ignored but brimming with life. Moore reminds us that liberation is possible if we commit ourselves to fighting for it, and if we dream and create futures where those who survive on society's edges can thrive. No Ashes in the Fire is a story of beauty and hope-and an honest reckoning with family, with place, and with what it means to be free.
---
Donna Murch, Assata Taught Me: State Violence, Mass Incarceration, and the Movement for Black Lives (Haymarket Books, August 2018).
Black Panther and Cuban exile, Assata Shakur, has inspired multiple generations of radical protest, including our contemporary Black Lives Matter movement. Drawing its title from one of America's foremost revolutionaries this collection of thought-provoking essays by award-winning Panther scholar Donna Murch explores how social protest is challenging our current system of state violence and mass incarceration. Murch exposes the devastating consequences of overlapping punishment campaigns against gangs, drugs, and crime on poor and working- class populations of color. Through largely hidden channels, it is these punishment campaigns, Murch says, that generate enormous revenues for the state. Under such difficult conditions, organized resistance to the advancing tide of state violence and incarceration has proved difficult. This timely and urgent book shows how a youth-led political movement has emerged since the killing of Trayvon Martin that challenges the bi-partisan consensus on punishment and looks to the future through a redistributive, queer, and feminist lens. Murch frames the contemporary Black Lives Matter movement in relation to earlier struggles for Black Liberation, while excavating the origins of mass incarceration and the political economy that drives it. Assata Taught Me offers a fresh and much-needed historical perspective on the fifty years since the founding of the Black Panther Party, in which the world's largest police state has emerged.
---
Nell Painter, Old in Art School: A Memoir of Starting Over (Counterpoint Press, June 2018).
How are women, and artists, "seen" and judged by their age, race, and looks? And how does this seeing change, depending upon what is asked of the viewer? What does it mean when someone states (as one teacher does) that "you will never be an Artist"—who defines "an Artist," and all that goes with such an identity, and how are these ideas tied to our shared conceptions of beauty, value, and difference? Old in Art School represents an ongoing exploration of such questions, one that ultimately honors curiosity, openness, and joy—the joy of embracing creativity, dreams, the importance of hard work, and the stubborn determination of your own value. Nell Painter's journey is filled with surprises, even as she brings to bear the incisiveness of her insights from two careers, which combine in new ways even as they take very different approaches—one searching for facts and cohesion, the other seeking the opposite. She travels from her beloved Newark to the prestigious Rhode Island School of Design; finds meaning in the artists she loves, such as Alice Neel, Faith Ringgold, or Maira Kalman, even as she comes to understand how they are undervalued; and struggles with the ever-changing balance between the pursuit of art and the inevitable, sometimes painful demands of a life fully lived.
---
Imani Perry, May We Forever Stand: A History of the Black National Anthem (University of North Carolina Press, February 2018).
The twin acts of singing and fighting for freedom have been inseparable in African American history. May We Forever Stand tells an essential part of that story. With lyrics penned by James Weldon Johnson and music composed by his brother Rosamond, "Lift Every Voice and Sing" was embraced almost immediately as an anthem that captured the story and the aspirations of black Americans. Since the song's creation, it has been adopted by the NAACP and performed by countless artists in times of both crisis and celebration, cementing its place in African American life up through the present day. In this rich, poignant, and readable work, Imani Perry tells the story of the Black National Anthem as it traveled from South to North, from civil rights to black power, and from countless family reunions to Carnegie Hall and the Oval Office. Drawing on a wide array of sources, Perry uses "Lift Every Voice and Sing" as a window on the powerful ways African Americans have used music and culture to organize, mourn, challenge, and celebrate for more than a century.
---
Ngũgĩ wa Thiong'o, Wresting with the Devil: A Prison Memoir (The New Press, March 2018).
Wrestling with the Devil, Ngũgĩ wa Thiong'o's powerful prison memoir, begins literally half an hour before his release on December 12, 1978. In one extended flashback he recalls the night, a year earlier, when armed police pulled him from his home and jailed him in Kenya's Kamĩtĩ Maximum Security Prison, one of the largest in Africa. There, he lives in a prison block with eighteen other political prisoners, quarantined from the general prison population. In a conscious effort to fight back the humiliation and the intended degradation of the spirit, Ngũgĩ—the world-renowned author of Weep Not, Child; Petals of Blood; and Wizard of the Crow—decides to write a novel on toilet paper, the only paper to which he has access, a book that will become his classic, Devil on the Cross. Written in the early 1980s and never before published in America, Wrestling with the Devil is Ngũgĩ's account of the drama and the challenges of writing fiction under twenty-four-hour surveillance. He captures not only the excruciating pain that comes from being cut off from his wife and children, but also the spirit of defiance that defines hope. Ultimately, Wrestling with the Devil is a testimony to the power of imagination to help humans break free of confinement, which is truly the story of all art.
permission
.