Writing on Poor Whites and Slavery in the Antebellum South
*This post is part of our roundtable on Keri Leigh Merritt's Masterless Men.
First, I want to take a moment to thank the African American Intellectual History Society (AAIHS) and Black Perspectives for organizing this insightful roundtable on Masterless Men. I had revelations about my own work while reading these thoughtful reviews, which is a pretty amazing experience. Whether it was Jeff Forret on politics, Michael Landis on the criminal justice system, Jessica Parr on race, Chad Pearson on class, Adrienne Petty on Reconstruction, or Calvin Schermerhorn on capitalism, these scholars all did a fantastic job highlighting the important parts of the book, as well as rightfully questioning aspects and interpretations. In this response, I would like to address the reviews by Chad Pearson and Adrienne Petty.
Chad Pearson is an amazing labor historian who is certainly one of the brightest young scholars in the field, and I find his review fascinating. Yet I feel I must briefly push back a bit against one of his points regarding Ta-Nahesi Coates. Pearson is not the first person to see my book as antithetical to Coates's work in some ways–a notion I reject.
Pearson correctly points out Coates's blind spot that working-class whites have not been both the primary "agents and beneficiaries of" racism. In some cases, poor and working-class whites were and are beneficiaries of racism. All whites benefit from racism in specific ways regardless of economic class, but less affluent whites simultaneously suffer because of racism. A lack of a demanding, coherent working class or poor people's movement has caused these whites to live with several of the same indignities as people of color: horribly low wages, dangerous and depressing working conditions, and a lack of access to health care and decent education. These factors have all led to the current crisis of addiction, suicide, and shortened life-spans for poorer whites as documented by Angus Deaton and Anne Case.
More importantly, I completely agree with Pearson that elite whites have always propagated racism, stoking racial fears and instigating racist violence whenever they felt the need to protect their wealth and privilege. Of course, there is no apology or excuse for the racism of working-class whites, but we should seek to understand the ways in which white supremacy and power are completely intertwined. Throughout American history, the economic elite have used vile forms of racism to perpetuate the economic and political hierarchy. As Pearson rightfully states, Masterless Men is not "about black, white, or southern identities; rather, it is principally about power and resistance."
Thus, I conceptualize Masterless Men not in opposition to Ta-Nahesi Coates's work, but as being a companion to it. We are telling histories that intersect at different places and times in various ways, but ultimately both Coates and I are discussing power structures and their resulting relationships.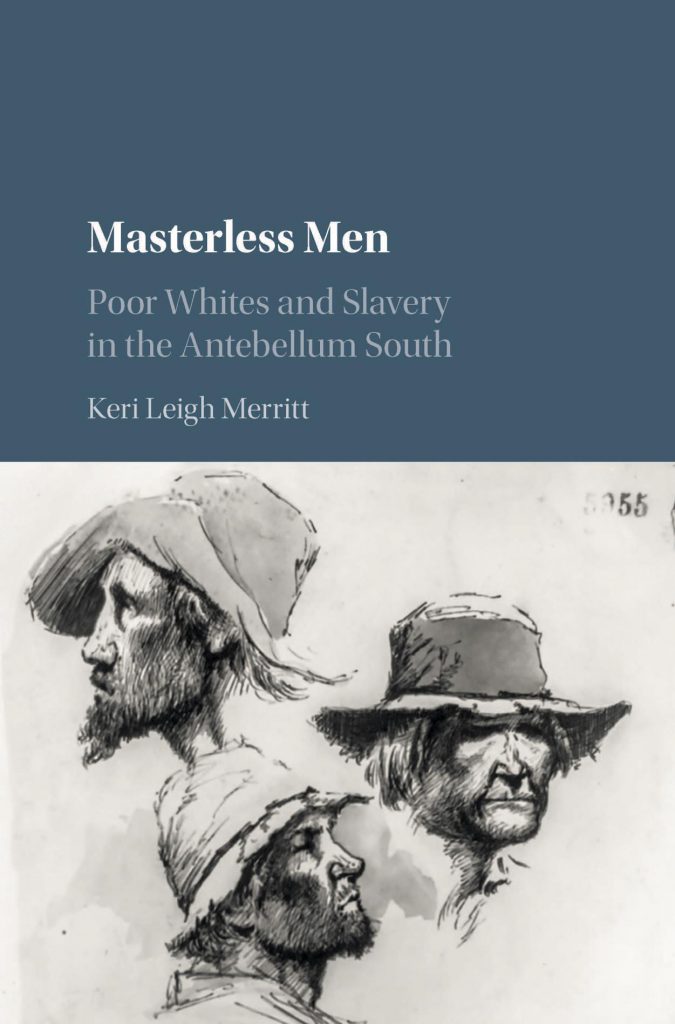 As to Adrienne Petty's review, I am very grateful that a question about my concluding chapter was raised in a forum where I could respond. I respect Petty and her work immensely, and she is absolutely correct to question whether or not we should be talking about poor whites gaining certain "freedoms" in tandem with African Americans. I actually argue that many times these freedoms were gained by whites at the expense of Blacks.
First, Petty is right that my conclusion is a cliffhanger. The period of Reconstruction is so complicated that I knew I needed to write an entire sequel someday concerning the early political alliances of poor whites and African Americans, and the eventual demise of any sort of solidarity. A conclusion simply wasn't enough space to do that; the topic deserves its own book.
Second, simply because a theory has been used by racists does not make it inapplicable or incorrect. If we had to scrub all historical theories originally proposed by racists it would undoubtedly be a detriment to the field. As scholars we conduct the research, examine the evidence in accordance with the theory, and make changes and point out nuances. A theory is not static; it can change over time.
I decided that it was important to first point out that poor whites did gain some very important freedoms during early Reconstruction. Their fates were in many ways inextricably tied to the fates of African Americans. Framing the narrative in such a way allowed me to juxtapose the short-term triumphs of poor whites with the ultimate failures of Reconstruction for Black Americans.
At the actual time of emancipation, the idea of "freedoms" for poor whites was championed by former abolitionists and racial liberals. Although the theory was hijacked for a while by racist historians, I heavily relied upon the interpretations presented by two brilliant, progressive, anti-racist scholars: William M. Brewer, the editor of the Journal of Negro History for nearly two decades, and the illustrious W.E.B. Du Bois.
My entire conclusion is actually an homage to Du Bois's Black Reconstruction in America. Historians often know that Du Bois's first chapter is entitled "Black Labor," but they simultaneously forget that his second chapter is entitled "White Labor." "The freeing of the nation from the strangling hands of oligarchy in the South freed not only black men but white men," Du Bois proclaimed, "not only human spirit but business enterprise all over the land."1
Many scholars of racism and slavery have memorized Du Bois's sentence, "The slave went free; stood for a brief moment in the sun; then moved back again towards slavery." Yet we ignore what immediately follows. "The whole weight of America was thrown to the color cast," he wrote. "A new slavery arose. The upward moving of white labor was betrayed into wars for profit based on color caste. Democracy died save in the heart of black folk. Indeed, the plight of the white working class throughout the world today is directly traceable to Negro slavery in America…"2
These points made so eloquently by Du Bois eighty-three years ago are still essential to understanding the tragedies of America today. Rampant and often violent racism, a cyclical culture of poverty, and a deep division between working-class people of different races have kept us one of the most backward, unequal developed countries in the world.
It is time once again – at this precipitous historical moment – to realize how the perpetuation of racism continues to impoverish so many millions of Americans. As Martin Luther King Jr. thundered in the final speech before his assassination, "There is nothing new about poverty. What is new is that we now have the techniques and the resources to get rid of poverty. The real question is whether we have the will."
 W.E.B. Du Bois, Black Reconstruction in America: An Essay Toward a History of the Part Which Black Folk Played in the Attempt to Reconstruct Democracy in America, 1860-1880 (1935; reprint, New York: Free Press, 1992), 210. ↩
 Ibid., 30. ↩
permission
.