Online Forum: The Russian Revolution and the African Diaspora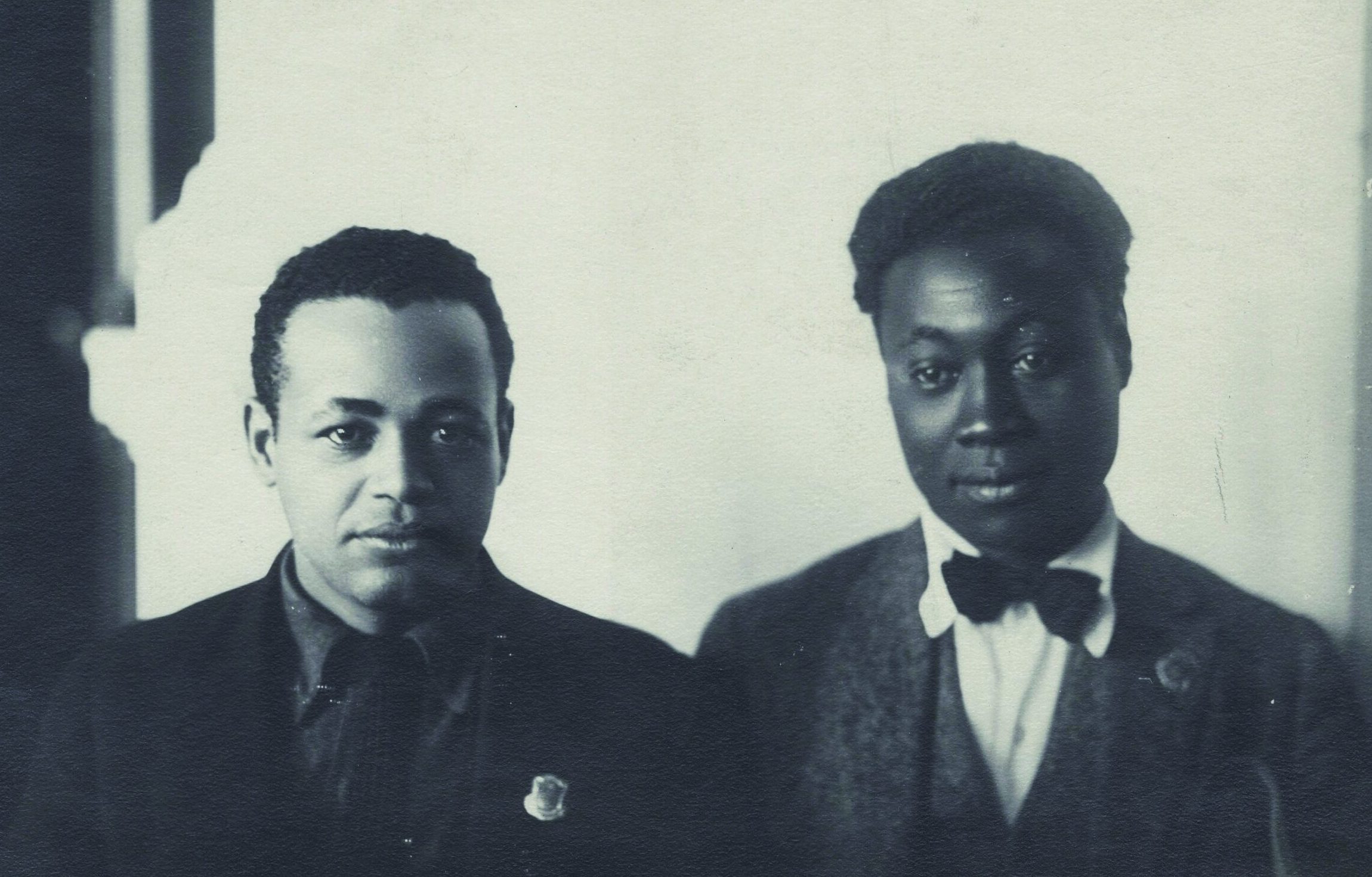 Black Perspectives, the blog of the African American Intellectual History Society (AAIHS), is hosting an online forum on Black October: The Russian Revolution and the African Diaspora. The forum begins on Monday, October 30, 2017 and concludes on Saturday, November 4, 2017. Organized and moderated by Jennifer Wilson (University of Pennsylvania) and Jennifer Suchland (Ohio State University), the forum will feature essays from Hakim Adi (University of Chichester), Kate Cowcher (University of Maryland), Rossen Djagalov (New York University/Poletayev Institute, HSE), Raquel Greene (Grinnell College), Christina Kiaer (Northwestern University), Denise Lynn (University of Southern Indiana) and Russell Rickford (Cornell University).
Marking the 100th anniversary of 1917, the online forum, "Black October," will explore the Russian Revolution and its consequences for the Black diaspora. Bolshevik Russia's emergence as a worker's state with global ambitions precipitated myriad aesthetic, cultural and political projects wherein Black activists and intellectuals explored the potential for viable alternatives to capitalism. In kind, the Soviet Union sought to cultivate a global Black proletariat by nurturing these projects using hard and soft power. Multi-directional in scope, "Black October" will highlight this back and forth, exploring both the impact of the Russian Revolution on the Black diaspora and the newly emerging discourses regarding Black subjectivity produced by the Soviet experiment.
During the week of the online forum, Black Perspectives will publish new blog posts every day at 5:30AM EST. Please follow Black Perspectives (@BlkPerspectives) and AAIHS (@AAIHS) on Twitter; like AAIHS on Facebook; or subscribe to our blog for updates. By subscribing to Black Perspectives, each new post will automatically be delivered to your inbox during the week of the forum.
---
About the Organizers
Jennifer Wilson is a Postdoctoral Fellow for Academic Diversity in the Department of Russian and East European Studies at the University of Pennsylvania. She specializes in the nexus of radical political thought and literature in 19th-century Russia with an emphasis on gender, sexuality, and race. She is currently at work on two book manuscripts: Radical Chastity: Abstinence and the Political Imagination in 19th-century Russian Literature and Writing the Black Atlantic in Imperial Russia. In 2016, she co-organized Translating Race in Eurasia, a conference and film screening at the University of Pennsylvania that explored construction of race and racialized identities in Eurasia. In 2015, she taught a course on ties between the Harlem Renaissance and the Soviet Union at the Russian State for the Humanities in Moscow. Her work on black artists in the Soviet Union has appeared in The New York Times, The Atlantic, and Slavic Review. She has also written about racism in contemporary Russia for The Guardian and World Policy International. She holds a PhD in Slavic Languages and Literatures from Princeton and a BA in Russian Literature from Columbia University. Follow her on Twitter @JenLouiseWilson 
---
Jennifer Suchland is an Associate Professor in the Departments of Women's, Gender and Sexuality Studies and Slavic and East European Languages and Cultures at Ohio State University. Her work is interdisciplinary and focuses on how rights categories emerge, evolve and circulate culturally and through law. Her most recent publication, Economies of Violence (Duke University Press, 2015), is a genealogy of human trafficking discourse in and through the end of the Cold War.  The book examines the role that postsocialism played in shaping current global anti-trafficking frameworks.  The project is tied to transnational feminist studies, postsocialist cultural studies and critical human rights. She continues to work on the issue of human trafficking and is currently researching how it has been "domesticated" in the United States. In addition to processes of domestication, she is interested in the historical and geographic circulation of rights discourses and how they can open as well as foreclose opportunities for activism, recognition and social justice. Some of her additional projects include research on new left cultural activism in Central and East Europe; precarious labor in Russia; and thinking human rights in the Anthropocene. Follow her on Twitter @mightykale.
---
About the Participants
Hakim Adi is Professor of the History of Africa and the African Diaspora at the University of Chichester. He is the author of West Africans in Britain 1900-1960: Nationalism, Pan-Africanism and Communism (London, 1998); joint author (with M. Sherwood) of The 1945 Manchester Pan-African Congress Revisited (London, 1995) and Pan-African History: Political Figures from Africa and the Diaspora since 1787 (London, 2003). He has written widely on Pan-Africanism and the modern political history of Africa and the African Diaspora, especially on Africans in Britain. He has also written three history books for children. He is currently working on a film documentary on the West African Students' Union www.wasuproject.org.uk. His latest book Pan-Africanism and Communism: The Communist International, Africa and the Diaspora, 1919-1939 was published by Africa World Press in 2013. In 2014 his children's book, The History of the African and Caribbean Communities in Britain, was re-published for the third time. Follow him on Twitter @hakimadi1.
---
Kate Cowcher is the 2017-18 Postdoctoral Fellow in Modern and Contemporary Art History at the University of the Maryland's Center for Art and Knowledge at the Phillips Collection. She recently completed her doctoral work in the Department of Art and Art History at Stanford University. Supervised by Barbaro Martinez-Ruiz and Pamela M. Lee, her research explored the centrality of images in the downfall of Emperor Haile Selassie in 1974, and in the shaping of the Marxist-Leninist military dictatorship that followed. Her work was supported by the Andrew W. Mellon Fellowship at the Center for Advanced Studies in the Visual Arts at the National Gallery of Art, and involved twelve months of field work in Addis Ababa. She is currently is working on a book project on art and revolution in Ethiopia. Her broader research interests include histories of African cinema, artistic legacies of the Cold War in Africa, cultural exchange between the Second and Third Worlds and the intersections between politics and cultural heritage. In September 2018, she will join the faculty of the School of Art History at the University of St. Andrews in the UK. At St. Andrews she will begin her second research project on the Battle of Magdala and the looting of Ethiopia's imperial treasures by the British forces.
---
Rossen Djagalov is an Assistant Professor of Russian at New York University, where he has been teaching since Fall 2015. This year, he is a fellow at the Poletayev Institute, HSE in Moscow. He previously taught in the Department of Comparative Literature at Koç University, Istanbul. He completed his PhD in Comparative Literature at Yale University in 2011 after which he worked as a lecturer at Harvard's Literature and History program and as a postdoc at the Penn Humanities Forum. His dissertation entitled "The People's Republic of Letters: Towards a Media History of Twentieth-Century Socialist Internationalism" now serves as the basis of a book manuscript. As a Jordan fellow at NYU, he worked towards another book-length project, "Premature Postcolonialists: Soviet-Third-World Literary and Cinematic Encounters," which reconstructs the history of the main organizations within which those encounters took place–the Afro-Asian Writers' Association (founded in Tashkent in 1958) and the biannual Tashkent Festival of African, Asian and Latin American Film (1968-1990)–and their consequences for Soviet and Third-World cultures.  This project juxtaposes two seemingly unrelated fields of literary studies—Russian/ Soviet and post-colonial literatures—in the belief that they have much to say to each other.
---
Raquel Greene is an Associate Professor of Russian at Grinnell College. She joined the department in 1998 as a CSMP scholar and dissertation fellow. She completed a Ph.D. in Slavic and East European Languages and literatures from Ohio State University. At Grinnell, Dr. Greene teaches all levels of the Russian language curriculum, and also teaches a course based on her research, "The Theme of the African in Russian Literature and Culture." Her research takes her to Moscow on a regular basis, most recently in December of 2008. She is especially well known as a scholar of the interplay of race, ethnicity and culture, and actively publishes in the fields of language pedagogy, Russian literature and culture, and children's literature. She has been active in improving diversity in student recruitment and in the teaching of Russian nationwide. She is currently working on a book manuscript on the construction of race, primarily Africa and Africanness, in Russian children's literature. One of the central arguments of Dr. Greene's work was that the images that inform the visual narrative of children's literature in the 1920s can be traced in large part to 19th century Russian responses to the institution of African slavery.
---
Christina Kiaer is an Associate Professor of Art History at Northwestern University. She teaches twentieth-century art, specializing in Russian and Soviet art, the politics of realism and the avant-garde, Comintern aesthetics, the visual culture of anti-racism, and feminist theory. She is the author of Imagine No Possessions: The Socialist Objects of Russian Constructivism (MIT Press, 2005), and co-editor, with Eric Naiman, of Everyday Life in Early Soviet Russia: Taking the Revolution Inside (Indiana University Press, 2005). Her book Collective Body: The Lyrical Prospects of Socialist Realism is forthcoming from the University of Chicago Press. Her most recent project is An Aesthetics of Anti-racism: African Americans in Soviet Visual Culture, parts of which are published in Russian Review and the volume Comintern Aesthetics (Toronto, forthcoming 2018).  She is involved in two Fall 2017 exhibitions marking the 100th anniversary of the Russian Revolution. She is co-curator, with Robert Bird and Zachary Cahill, of the exhibition Revolution Every Day at the Smart Museum, University of Chicago, and an editor of the catalogue (Mousse Publishing, 2017). She is also a consultant and catalogue author for the exhibition Revoliutsiia! Demonstratsiia! Soviet Art Put to the Test at the Art Institute of Chicago.
---
Denise Lynn is an Associate Professor of History at the University of Southern Indiana in Evansville, Indiana, United States. She received her Ph.D. in History in 2006 from Binghamton University, SUNY. Dr. Lynn's research focus has been on women in the American Communist Party during the Popular Front. She has published on communist led meat boycotts in 1935 and American communist women's participation in anti-fascism specifically regarding the Spanish Civil War and the Italian invasion of Ethiopia as well as fears of Nazi pronatalist policies and sister policies in the United States that restricted women's access to birth control. Dr. Lynn has also explored the lives of individual women in the Communist Party, including Claudia Jones and Juliet Stuart Poyntz. Her articles have appeared in American Communist History, Women's History Review, Journal of Cold War Studies, Radical Americas, and Journal for the Study of Radicalism. Dr. Lynn is currently completing a manuscript on the 1937 disappearance of American spy Juliet Stuart Poyntz and how her disappearance was part of the larger anti-communist narrative in Cold War America. In this project, Dr. Lynn argues that American anti-communism has roots in the American left as well as the right. Follow her on Twitter at @DeniseLynn13.
---
Russell Rickford is an Associate Professor of History at Cornell University. He is the author of We Are an African People: Independent Education, Black Power, and the Radical Imagination. The book was awarded the 2016 Hooks National Book award. The award, given by the The Benjamin L. Hooks Institute for Social Change at the University of Memphis, is granted to an author whose book "best furthers understanding of the American Civil Rights Movement and its legacy." Dr. Rickford's book discusses the Pan African nationalist schools that arose as a lesser known dimension of the Black Power Movement of the 1960s and 70s. These schools not only aimed to teach academics, but also served as sites to cultivate African cultural identity. We Are an African People uses the political, cultural, and social revitalization of the post-civil rights era to explore modern discussions about educational reform, race, and identity. A specialist on the Black Radical Tradition, Dr. Rickford teaches about social movements, black transnationalism, and African-American political culture after World War Two. He is the editor of Beyond Boundaries: The Manning Marable Reader. His other publications include Betty Shabazz: Surviving Malcolm X, the only major biography of Malcolm's late widow. He is currently working on a book about Guyana and African-American radical politics during the 1970s. Follow him on Twitter @RickfordRussell.
permission
.