Blog Announcements: New Editing Team
The editing team of Black Perspectives is excited to embark on a new academic year! Thank you for supporting us over these past few years! We extend our sincere thanks to the talented writers who contributed excellent pieces to the blog; participated in our forums and roundtables; and reviewed books for us. As we enter a new academic year, we look forward to expanding the content of the blog, highlighting a wide array of fields; methods; and methodologies.
New Senior Editor
The new academic year also brings a few changes to the blog's editing team. Senior blog editors J.T. Roane and Sasha Turner have concluded their term with the blog and each embark on new positions on their respective campuses. JT is will soon begin a new position leading the Black Ecologies Initiative in the Institute for Humanities Research at Arizona State University. Sasha recently started a new position as Associate Professor of History at Johns Hopkins University. We celebrate their accomplishments and thank them for their time of service to the blog.
After serving as the book review editor for the past year, Tyler D. Parry, the Vice President of AAIHS, recently began a new term as senior editor of the blog. Dr. Parry is Assistant Professor of African American and African Diaspora Studies at the University of Nevada Las Vegas. Trained as a historian, he received his BA in 2008 from the University of Nevada Las Vegas and his Ph.D. in 2014 from the University of South Carolina. He is the author of Jumping the Broom: The Surprising Multicultural Origins of a Black Wedding Ritual (University of North Carolina Press, 2020). He also co-edits H-Afro-Am, a premier venue that digitally links scholars who study the African American experience, and serves on the Editorial Review Board for the Journal of Colorism Studies. Parry's research examines slavery in the Americas and the African diaspora. His writings are published in the Journal of Southern History, American Studies, Journal of Global Slavery, History Today, Griot's Republic, Jacobin.com, Black Perspectives, and various edited collections. He is currently working on several projects including an edited volume with Robert Greene II. Follow him on Twitter @ProfTDParry.
New Associate Editor
Associate blog editor Julius B. Fleming concludes his term at the blog and resumes his work as an editor of  Callaloo: A Journal of African Diaspora Arts and Letters. Associate Editor Guy Emerson Mount continues his work with the blog and is now finalizing a new podcast, which will soon be released.
We're excited to announce that Emerald Rutledge, who has been working with the blog for the past two years, has agreed to serve as a new Associate editor. Emerald is an English PhD student at the University of Wisconsin-Madison, where she also received her M.A. in Afro-American Studies. She has received the University of Wisconsin-Madison Graduate School Fellowship as well as an Advanced Opportunity Fellowship, which will support her during the dissertation phase of her program. Her research interests include 20th century African American Literature, Black feminisms, and Black queer theory with a special focus on mid-late 20th century Black gay and lesbian literature. Follow her on twitter: @emeraldfaith.
Assistant Editors
We're excited to announce that the following editorial interns will now serve in various capacities as assistant editors for the blog. During the course of the year, they will also contribute pieces related to their own research interests. 
Ajamu Amiri Dillahunt
is a Ph.D. Student in the Department of History at Michigan State University. He is a member of the Black Youth Project 100 (BYP100), Black Workers for Justice (BWFJ), and a board member with the Interreligious Foundation of Community Organizations (IFCO). He is also a former intern with the SNCC Digital Gateway Project at Duke University. In May of 2019, Ajamu graduated from North Carolina Central University with a B.A. in History and a B.A. in Political Science. His research centers on Black internationalism and 20th century African American History. Follow him on Twitter: @adillahunt_.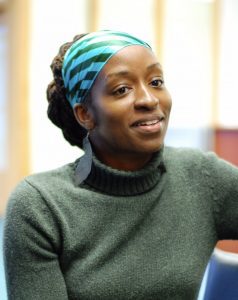 Grace D. Gipson is an Assistant Professor in African American Studies at Virginia Commonwealth University. She holds a BA in Psychology from Clark Atlanta University, MA in African American Studies at Georgia State University, and a Ph.D. in African American Studies with a designated emphasis in New Media from the University of California Berkeley. As a Black future feminist/pop culture scholar, her research explores Black popular culture, digital humanities, representations of race and gender within comic books, Afrofuturism, and race and new media. Currently, Grace is working on a book project that seeks to explore Black female identities as personified in comics and fandom culture, and a second project examines how online Black female academic and popular networks produce cultural and technical capital, which act as safe spaces that showcase, interrogate, and celebrate the blending of popular culture and the academy. Her work can also be found in various edited collections, and such outlets as Huffington Post, NPR.org, Black Perspectives, FCH Annals. She has taught courses on Africana history, Introduction to Africana Studies, Black Popular Culture, Channeling Blackness in Social Media, Race, Gender and Class in Contemporary South Africa, African American Families, and Making Sense of Cultural Data. Outside of the classroom, you can find Grace participating in one fifth of the #BlackComicsChat twitter podcast crew, working in the community, collecting passport stamps and movie ticket stubs. You can find her on Twitter @GBreezy20.
Leah Kaplan is a PhD student in African American Studies at Northwestern University. Leah holds an MA in Philosophy and Art from Stony Brook University. Her research interests are broadly categorized under Caribbean Philosophy, Black Critical Theory, Critical Phenomenology, and Black Political Thought. . Within these traditions, she is particularly interested in answering questions around time, space, and Black ecology. She is currently an assistant editor at Black Perspectives and her recent work has appeared in Propter Nos. Follow her on Twitter @sous_rature.
Book Review Editor
Randy M. Browne, a historian of Atlantic slavery who specializes in the British Caribbean, is an associate professor of history at Xavier University. He received his Ph.D. from the University of North Carolina at Chapel Hill. His first book, Surviving Slavery in the British Caribbean (University of Pennsylvania Press, 2017), focuses on slavery in nineteenth-century Berbice and won the biennial Elsa Goveia Book Prize from the Association of Caribbean Historians. Browne's scholarship has been supported by grants and fellowships from the Library Company of Philadelphia, the National Endowment for the Humanities, and the U.S. Department of Education. His articles have appeared in the William and Mary Quarterly, the New West Indian Guide, and Slavery & Abolition. In 2020-2021, Browne will be the Fletcher Jones Foundation Fellow at The Huntington, where he will be working on his current book project on slave drivers in the British Caribbean. Follow him on Twitter @randymbrowne.
**If you're interested in reviewing books for Black Perspectives, please send a note to Dr. Browne (blackperspectives@aaihs.org).
permission
.